Storage of personal effects
Have you sold your home, but haven't a new house yet?

Or, are you going abroad for a longer period of time? Then you can store your belongings with us!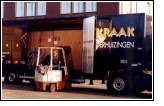 We will collect your belongings from your house or you may bring them over yourself.

The personal effects will be carefully loaded by our staff into wooden storage containers measuring 9 to 10 m3 by using, of course, padded blankets and other packaging material. The storage containers are located in dry, dust-free storage areas. The storage depot is very well insured against fire and theft.

Once you have found a home, we can deposit the containers by means of a forklift in our moving van and place the storage containers straight in your new home. Everything shall be deposited in its proper place after which you can start unpacking yourself or have this done by us as well.